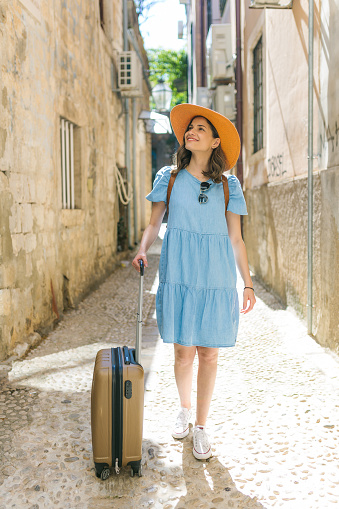 07 Jan

Solo female travel safety tips

Is solo female travel safe? While there are risks no matter where you travel in the world, there are a few ways to lower your chances of something happening while you're overseas.
1. Plan your first trip to one of the best countries for solo female travel
While you can travel wherever you want to, these are a few countries that have top safety ratings when it comes to solo female travellers:
Singapore

Finland

Canada

Japan

Iceland

Costa Rica
2. Be mindful of cultural norms
In more conservative countries, it makes sense to dress as the locals do – especially if it involves covering arms, legs and shoulders. A lightweight sarong can quickly double as a shawl, skirt or headscarf in a pinch.
3. Follow official government advice
Research the destination before you depart, including safety recommendations. For instance, research the neighbourhood you want to stay in and check out recommendations on social media by other seasoned female travellers.
4. Keep in touch
Buy a phone plan with data as soon as you arrive at a new destination. With a working phone and power bank, you can easily find your way around, download local transport and information apps, stay in touch with others, and call a hotel, taxi or emergency service if needed. We recommend informing hotel and hostel staff of your whereabouts as well as the rough time you expect to return.
5. Keep your valuables on you when you're on the move
A hidden passport holder or cross-body bag with a zipper is going to be your best friend. Don't keep anything precious in your backpack whilst you're in transit, as transit times are when theft is most likely to occur.
When you're out for the day, only take what you need, as that way if you lose your wallet or it gets nicked, you're not going to lose too much.
6. Copy your important documents
Store copies of your documents in paper and/or online. If your passport is lost, stolen or damaged, you may need to recall the details of your passport to secure another from your embassy. You'll also want a copy of any relevant vaccine cards, travel insurance and potentially a secondary form of identification. Photocopies are an easy way to have all the information you need to hand.
7. Don't skimp on travel insurance
When picking a travel insurance policy, read the fine print. Double-check that it covers the destination and all activities you'll be doing, as well as medical coverage in worst-case scenarios. It's better to have insurance and not need it, than need insurance and not have it.
Until da next Tyme
Sourced from Sky Scanner